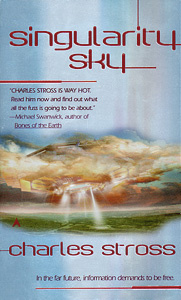 The day war was declared, a rain of thelephones fell clattering to the clobblestones from the sky above Novy Petrograd.
Inizia proprio con una pioggia di telefoni il bel romanzo di Charles Stross che ho appena finito di leggere.
Stross è il solito vulcano di idee, riesce a rendere non noiosa una storia che, dopotutto, è un classico della space opera e aggiunge ogni tanto delle note veramente spassose. È un tomo cospicuo, se lo si paragona alle altre opere di Stross, ma, dopotutto la storia regge, anche se ogni tanto ci sono dei cali, quasi fisiologici. Ancora una volta, ho apprezzato la bassa prevedibilità di ciò che sta per succedere nel corso della narrazione.
Singularity Sky è anche hard science fiction e potrebbe causare problemi a chi disdegna deliberatamente l'aspetto scientifico della fantascienza. Dal mio punto di vista non credo sia un problema, non di più di quanto si possa apprezzare l'aderenza alla storiografia in un romanzo storico.